Today we are going to talk specially about the Linux cloud web hosting packages offered by us.
What is self-healing/automatic failover?
Whenever one server encounter any hardware failure, all of your data will be migrated to standby nodes to make your websites up and running as fast as possible.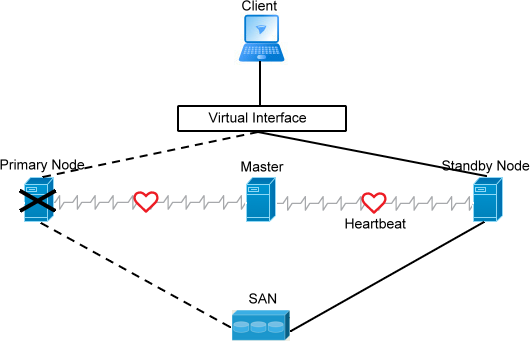 How it's possible?
Our Linux cloud hosting servers are powered by OnApp or Citrix XenServer cloud platform which is fully redundant and scalable.  Every setup has at least one primary node and one stand-by node that are pooled together. A Storage Area Network (SAN) array has been connected to this resource pool over a dedicated and private network, connected to the second network interface of the servers.
We provision our cloud virtual machines with cPanel/WHM on the primary node and allocate SAN storage to store customer data. It means that your data is not local to a specific server, and it allows us to enable self-healing whenever there is a hardware failure.
What is a Storage Area Network (SAN)?
A Storage Area Network (SAN) is a centralized physical disk array and the storage can be allocated to the cloud virtual machines by using iSCSI technology over the network. It means that the disks are not physically connected to the servers by using SATA cables. Click here for more information
What if the SAN array fails?
We have found a solution for this issue too :), we have configured data mirroring across multiple data centers which are physically isolated. Technologies like GlusterFS and Ceph are used to mirror data across different data centers. Since the storage arrays are geographically redundant, we can ensure there will be no issue if a single SAN array fails.
Whats next?
With a cloud hosting account at Provider.lk, you will receive many features that will help your business grow and running without any service interruption. Sign up today for a cloud hosting package!
Overall setup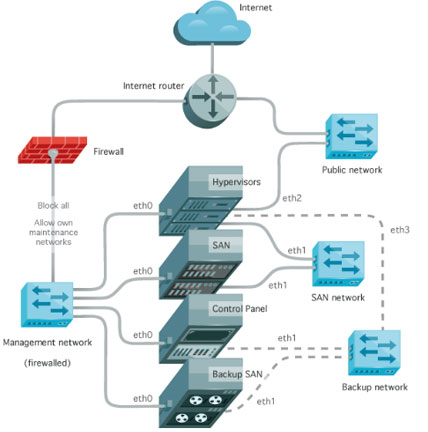 Linux based Cloud Hosting Packages